Get the Porch Potty that is changing the lives of more than seven thousand customers! Potty breaks and clean up don't have to be dreaded chores anymore.
In Stock - Ships in 24 hours
Porch Potty Premium Sprinkler System Keeps Your Porch Fresh
Our Porch Potty Premium Cleans and Drains Itself! What could be easier than that? With a simple turn of the water spigot it is connected to, the built in sprinkler system and self-draining design keeps your porch fresh and odor free. By adding our automatic timer, you can even skip that step!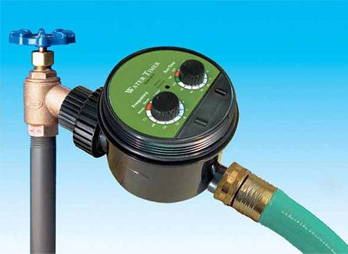 Add the water timer to turn the water supply on and off at the same time every day for one minute.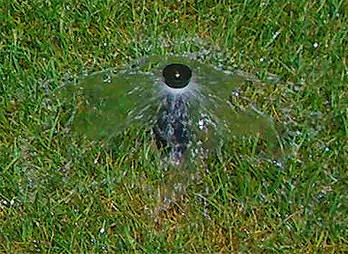 Two pop up sprinklers rinse the grass clean with 3 gallons of fresh water.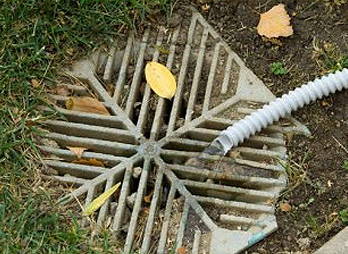 The water runs out the included drain hose to a nearby floor drain, rain gutter, or flower bed.
If you have a water source nearby (like a garden hose), you might want to consider the Porch Potty Premium. After picking up any solids, just turn on the water and watch the two water jets pop up and spray the grass clean with over 4 litres of fresh water. Add the Porch Potty Water Timer to make it automatically turn on and off everyday for you. The included Synthetic Grass covers almost a square meter of grass area (61cm x 122cm) to accommodate all dogs up to 8½ Stone. Plenty of space to circle and find the perfect spot.

After 1 minute of rinsing, the water soaks the entire grass area with 3 cm of water. The drain then goes to work and empties the water and urine down the 4.3 meters drain hose during the second minute. The drain hose directs the water and urine to a nearby patio drain, or rain gutter. In under two minutes the Porch Potty has cleaned and rinsed itself to leave a fresh odor free grass area for your dog. It's that simple. No soap or harsh chemicals are needed, just clean water.

Add the Porch Potty Water Timer to make it completely automated. The water timer connects to your hose spigot, and turns the water on and off every other day for exactly one minute. You don't even have to think about it. The Porch Potty Water Timer is sold separately, if you want the added convenience. Click here to learn more and add it to the cart when purchasing a Porch Potty Premium.

Note: Do not use the sprinklers indoors. The Indoor Catch Basin should not be used with the sprinklers. The volume of water can be more than the Catch Basin can hold.
Porch Potty Premium Specs
Outer Dimensions:
66cm x 127cm x 18cm
Grass Area: .74 square meters (61cm x 122cm) - Synthetic grass included
Material: All weather resin wicker over steel frame
Drain hose length: 4.3 m ultra-flexible

Other Items Included
Potty Training Booklet and User Manual
Scented Fire Hydrant
See what a satisfied customer has to say about the Porch Potty Standard!
Premium Accessories To Add