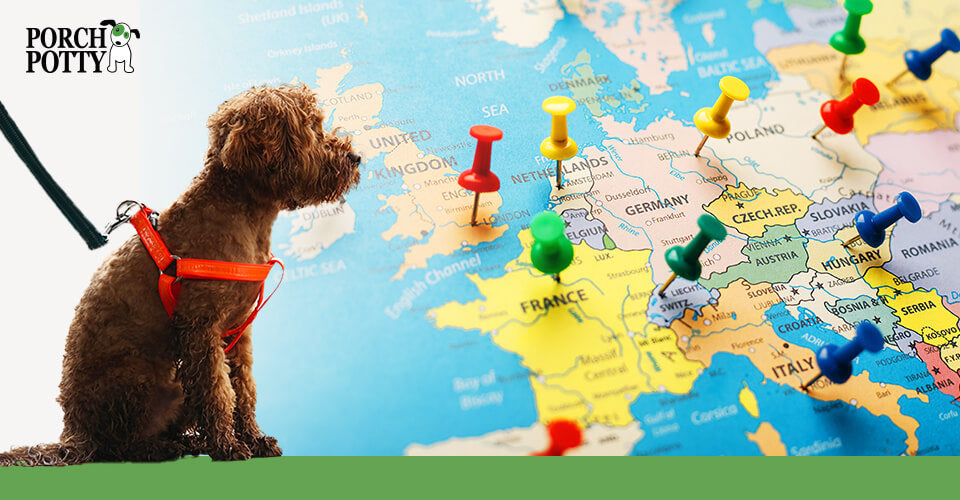 A fluffy brown poodle puppy in an orange harness sits in front of a map of Europe, filled with push pins of various colors.
It's crucial to have access to amenities that meet our needs while traveling with our animal friends, such as specific areas for fast bathroom breaks. Thankfully, the travel landscape has been evolving to accommodate our furry friends, and one notable example is the establishment of pet relief areas at airports across the UK and Europe.
We'll take you on a tour of airport terminals that go above and beyond to provide pet relief spaces, ensuring that your devoted companion's comfort is a top priority. These terminals include the busy London Heathrow Airport, the beautiful Amsterdam Airport Schiphol, and more. This book will be your go-to source for finding somewhere to stay, whether you're an experienced traveler or arranging your first excursion with your dog.
Airports with Pet Relief Areas in the UK and Europe
London Heathrow Airport (LHR), UK
London Heathrow Airport (LHR) has a comprehensive pet relief policy and animal care services for travelers bringing animals into the United Kingdom. When traveling with a pet to the UK via Heathrow Airport, there are specific procedures to follow.
Travel Scheme and Animal Reception Centre:

All animals entering the UK must adhere to the Travel Scheme regulations. Upon arrival at Heathrow Airport, pets must go through the Animal Reception Centre (ARC) near the airport. The ARC checks animals' paperwork for compliance with regulations and provides a temporary resting place for pets during layovers.

Flight Arrangements: While many airlines, including British Airways, offer options for flying with pets in the cabin or as checked baggage, pets flying into the UK must be transported as cargo. It applies to all pets except assistance dogs, which can travel in the cabin and move through the terminals. Service animals must follow other aspects of the travel scheme and not disrupt fellow passengers.
Assistance Animals: Assistance dogs are treated differently and can travel in the cabin and move through the airport terminals. However, they must adhere to travel scheme regulations and not disturb other passengers.
Animal Customs and Pet Carriers: Travelers should book their pet's travel through authorized pet carrier companies operating at Heathrow Airport. These carriers will assist in getting the pet through security or even deliver them to your door. Researching and choosing the best carrier service for your needs is advisable.
Contact Information: For inquiries regarding pet travel guidelines and Heathrow Airport's pet policy, travelers can reach out to the Pet Travel Scheme Hotline via email at pettravel@ahvla.gsi.gov.uk or by calling 0370 241 1710, Monday to Friday, between 8 am and 6 pm.
London Gatwick Airport (LGW), UK
Like most UK airports, Gatwick Airport does not have a specific area within the terminal for pets to take care of their business. If you are traveling to Gatwick with a Service or Assistance Dog, your furry companion can relieve itself once you leave the airport premises.
A Welsh Corgi on a leash stands in front of its owner and a display of the UK flag.
Amsterdam Airport Schiphol (AMS), Netherlands
Your dog should always be leashed or securely tethered while inside the terminal. There are no designated areas for dogs to relieve themselves, so bringing your pooper-scooper or plastic bags for cleanup is essential.
If a pet travels in a kennel, it's permissible to take the animal out of the kennel only in the arrival hall, specifically after passing through customs when exiting the reclaim hall.
See here for more information: Amsterdam Airport Schipol
Munich Airport (MUC), Germany
There are designated green areas outside each terminal where pets can relieve themselves. If you choose to use these areas, please be aware that you must go through security and passport checks for arrivals and departures. Make sure to allocate enough time for this process and be mindful of the regulations governing the entry and exit of both you and your pet from the facility.
If your dog serves as an assistance animal, there are options available to ensure its care through the Services for Passengers with Reduced Mobility (PRM)
See here for more information: Munich Airport, Germany.
Frankfurt Airport (FRA), Germany
Frankfurt Airport provides designated areas for dogs to relieve themselves indoors and outdoors within the terminal buildings. Also, there are rest areas suitable for pet-friendly travelers, including a pet-friendly hotel. It's important to note that these facilities are exclusively accessible to passengers with pets traveling in the cabin and require the appropriate documentation. For pets traveling in the cargo hold, an exclusive Animal Lounge is specifically designed for those with long-haul layovers.
Paris Charles de Gaulle Airport (CDG), France
After clearing customs, you can access the grassy area outside terminal 2E. Feel free to seek assistance from the airport staff at Charles de Gaulle Airport, as they can guide you to the appropriate spot.
Visit their website for more information here. 
Barcelona-El Prat Airport (BCN), Spain
Barcelona-El Prat Airport (BCN) in Spain provides a convenient solution for travelers with pets at Terminal 1. This terminal offers designated pet relief areas, ensuring that passengers traveling with dogs can access suitable spaces for their pets to relieve themselves before or after their flights. These pet-friendly facilities help make the travel experience more comfortable for passengers and furry companions.
A beagle puppy lays its head on an open suitcase packed with clothes, sunglasses, headphones, a passport, and doggy bags.
Pet-Friendly Guidelines
When traveling with animals, planning and preparing accordingly is essential to ensure a safe and comfortable journey for your pets. Airports have specific guidelines and facilities in place to accommodate travelers with animals. Here's a general summary of what you can expect when traveling with animals:
Booking and Documentation:

Before your trip, contact your airline to understand their specific policies regarding pet travel. Ensure you have all the necessary documentation, including pet passports, health certificates, and vaccinations.

Pet Carrier:

Most airlines and airports have regulations regarding the type and size of pet carriers allowed in the cabin or cargo hold. Ensure your pet's carrier complies with these guidelines for their safety and comfort.

Security Check:

When going through airport security, you must remove your pet from its carrier and carry it through the metal detector while the carrier is screened separately. Be prepared for this process and follow the security personnel's instructions.

Pet Relief Areas:

Some airports offer designated pet relief areas. These outdoor spaces allow your pet to take a bathroom break and stretch their legs. Be sure to locate these areas within the airport.

Boarding and In-Flight:

If your pet is traveling in the cabin with you, follow the airline's instructions for boarding. On the plane, keep your pet in its carrier under the seat in front of you. If your pet travels in the cargo hold, ensure the carrier is secure and well-ventilated.

Comfort and Safety:

Make your pet comfortable during the journey. Bring their favorite toys, blankets, and food. Ensure they are well-hydrated, especially on long flights.

Arrival:

Upon arrival, follow the airport's guidelines for collecting your pet and their carrier. Be prepared to provide any necessary documentation to customs and immigration authorities.

Local Regulations:

If traveling internationally, be aware of your destination country's specific pet import regulations. 
For more information on potty training your dog, check out these articles:
Airport Dog Potty Facilities in North America
How Do I Deal with Dog Training Accidents?